Staff: Kevin Gaussoin, Editor-in-Chief
Kevin Gaussoin – Editor-in-Chief, Publisher, Owner, HMFIC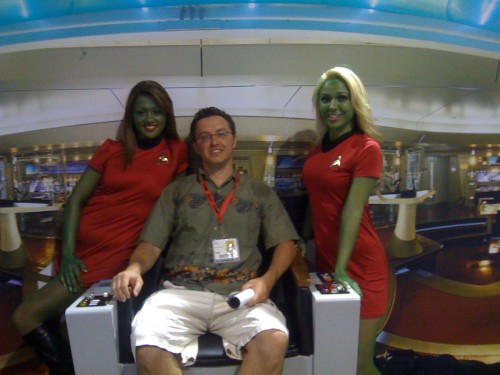 In 1999, George Thrush, then owner of Comic City, a local comic shop in San Diego asked Kevin to update his frame-ridden mess of a website: ComicsOnline.com. September 25th, 2000, the new site went live. Soon, Karl Madsen bought Comic City and ComicsOnline.com and Kevin continued to update the site. In 2006 Karl retired to Idaho and sold Kevin ComicsOnline.com. Since then Kevin has redoubled his efforts to assemble the greatest group of geeks from around the country and around the globe to staff the ever-growing and evolving everything geek pop culture website that is ComicsOnline.com.
Kevin was born longer ago than you might think in San Diego, California. His geek roots come from an early predilection for comic book collection, which today results in over 54 long boxes of glory. Over his lifetime, Kevin has devoured thousands of hours of genre TV and movies, which is partly why ComicsOnline is so heavy in those categories. Kevin continues to enjoy the gaming world as well, evolving from Atari, C-64 and D&D to PS3, Mac OS and HeroClix and beyond. While it's true that Kevin has won national championships in two video games, his life today doesn't have much room for gaming beyond occasional Rock Band 3 sessions with his bands Lesbiansin Wheelchairs or Cake or Death & Taxes.
In 2011, filmmaker Kevin Smith called Kevin Gaussoin "A true goddamn American hero." Like his apparent role model Silent Bob, as an actor, Kevin is a man of few words. Kevin can be seen in the final scene in Slapdash
but is of course best known for his emphatic "Neil Gaiman" in Morgan Spurlock's Comic-Con Episode IV: A Fan's Hope
.
Even after all the growth the site has undergone in the past few years, Kevin still loves to review Blu-rays and games, but his biggest reason for continuing to work on ComicsOnline.com is Comic-Con. Kevin first attended Comic-Con in 1984 and while he's moved away from his beloved San Diego a couple of times, he still hasn't missed a Con since. 2012 was Kevin's 28th Comic-Con in a row. If you're throwing a party at Comic-Con, you should probably put Kevin on the list. And if you want to come to one of our parties, let us know. Everyone's invited to our Annual Comic-Concert!
Kevin is thrilled with his current staff on ComicsOnline but never satisfied. Kevin is always looking to recruit more like-minded geeks.
One of Kevin's favorite reviews he's written was Spider-Man: Shattered Dimensions. His favorite ComicsOnline Podcast episodes were Season 9, Episodes 8 and 9, but he agrees with Dune that the current season of episodes is probably even more enjoyable to our listeners.
Kevin loves to host the ComicsOnline Podcast, but dreads the editing that comes with it.
Kevin's day job involves software. He could tell you more, but he'd have to charge you.
Contact Kevin by emailing his first name at this domain.
-K____'_