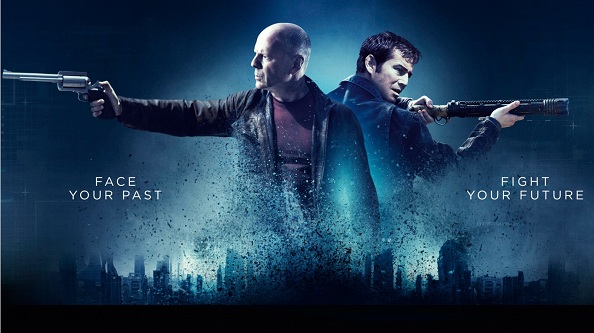 by Kevin Gaussoin, Editor-in-Chief

Time travel is a tricky thing. It behaves differently in different universes, so when a story that takes place in a new one pops up, we as the nerds of geek pop culture are eager to learn how it works. Will it be like Doctor Who? Back to the Future? Terminator? Star Trek? The problem is, we have been burned too many times before by bad sci-fi to immediately trust that a new fictional universe is going to respect us and the story enough deliver a system that they will stick to. We want to know what the rules of time travel are before we are going to be satisfied enough to enjoy the story. Writer/Director Rian Johnson (Brick, Terriers) does right by us with Looper.
(Check out our interview with Rian Johnson and Joseph Gordon-Levitt here.)
In 2042, society is not in a good place. The economy has collapsed and most people are unemployed vagrants. There aren't many ways to get ahead in the world, and many people would kill to get a chance. Joe (Joseph Gordon-Levitt – The Dark Knight Rises, Brick, Third Rock from the Sun) enjoys a life of plenty because he is a Looper–a hitman.
Don't worry, in the next frame, The TARDIS appears and The Doctor takes care of everything.
In 2042, time travel hasn't been invented yet; that won't happen for decades. Once it is invented in the future, it's immediately made illegal, but it's exploited by the mob of 2072. In the future, it's not easy to hide evidence anymore, so when the mob wants to "whack" someone, they send a note to one of their Loopers in 2042 with a time and place, then send their bound and hooded victim to those coordinates. It's a pretty efficient system, overseen by Abe (Jeff Daniels – Timescape, The Answer Man) who was send back from the future to recruit Loopers and ensure things run smoothly in 2042.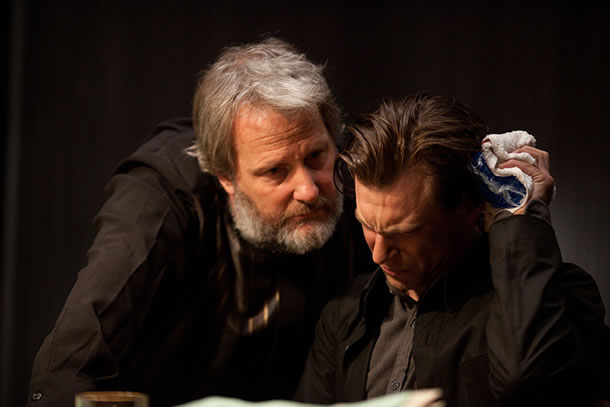 I'm from the future; you should go to China.
Abe's hitmen in 2042 are called Loopers because while they live well, the contract they sign when they join up dictates that eventually they'll have one last hit: Themselves. This last hit comes with an even bigger payday and sends them into a posh 30-year retirement until it's time to close their loop. Soon enough, we see why Joe doesn't look like the Joseph Gordon-Levitt we're used to, as his older self (Bruce Willis – Die Hard, The Sixth Sense, Cop Out) arrives.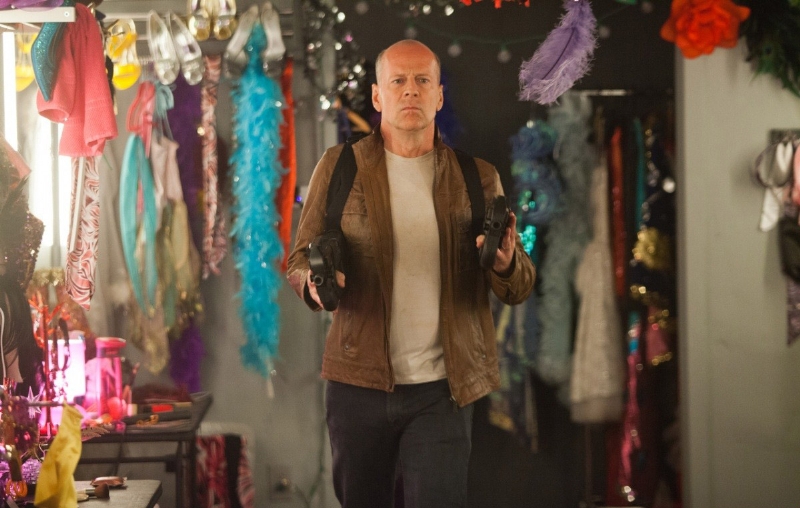 Yippee-ki-yay, Mother-Loopers!
The universe of Looper brings us both a believable time travel system and a compelling story to tell with it. It may seem like we've explained too much already, and yet the above is all mere exposition.
Looper takes us to a new universe where sci-fi elements like time travel serve to tell a suspenseful and action-packed, yet compelling story of one man's self-reflection and hope for redemption. It is tense from the start and does not let you go until the end. And in the end…
Rating:






ComicsOnline gives Looper 4.5 out of 5 bars of time traveling gold.
Keep looping back to ComicsOnline.com for more movie reviews and everything geek pop culture!