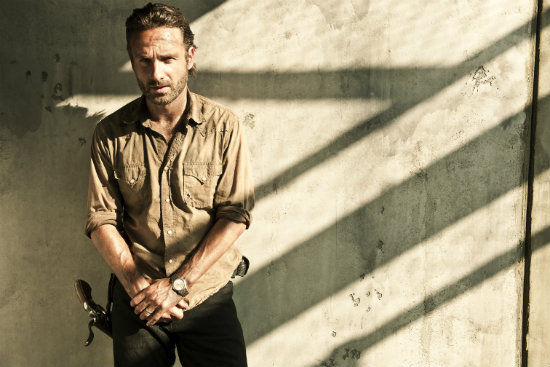 By Kroze Kresky, Media Editor
BEWARE OF SPOILERS FOR SEASON 3, Episodes 1-2 OF THE WALKING DEAD!
This season of
The Walking Dead
seems to be trying to rectify the problems that made the first half of last season so hard to watch. Instead of shambling along with little to no action in each episode, "Sick" keeps up the pacing and action and doesn't let up. Picking right back up where episode 1 left off, this episode resumes in the midst of all the action and confusion as Rick and co. stumble on to a new group of survivors in the prison. Bewildered and confused, the former prison inmates have no clue what to think of our gang of heroes as Hershel proceeds to bleed out needing medical attention.
Right off the bat this new group of characters is interesting (and unique) as
The Walking Dead
once again gives us another memorable introduction to this new group of characters.Being the previous inmates of the prison, they don't exactly take kindly to Rick's crew busting into their hood, dawg! They immediately try threatening our survivors to give up control of the prison they worked so long and hard to flush out. Finally this season Rick has seriously grown a pair as he lays down the law and draws a line in the sand immediately between the two groups. Quite a huge (and very much welcome) change from the passive Rick that we have gotten in the past, he offers to let the prisoners have their own cell block (provided they can clear it out of the dead) and thus begins a very tenuous truce with the two parties and even offers to help train them… leading to one of the most hilarious sequences this show has provided to us. Apparently prisoners think yelling and trying to shank zombies with shivs in the chest is an affective way to take a walker down.
Meanwhile back in Cell Block C, Glenn is left to watch over everyone as they tend to Hershel's still bleeding wound. Carol's time to shine has finally come as she makes use of everything she has been taught to help stitch Hershel back up and even comes up with a plan to help out Lori with her incoming pregnancy (Hint: it involves a zombie and a knife… hey, in a post apocalyptic zombie filled world ya gotta find ways to practice c-sections however you can!). We get some very nice character development moments with everyone not involved in all the prison action here with Maggie trying to cope with the possibility of losing her dad and Lori trying to make amends for what she has done (and failing like always… oh Lori…). Although the most standout moment in the episode comes from the previously weak link in the chain Carl. Once again he doesn't stay in the house/cell block, but when he goes off on his own he proceeds to find the medical bay and kills two walkers by himself (granted off camera… we need more up close and personal Carl zombie killing action damnit!) showing just how far the character has come in the span of the 8 months since season 2 and is no longer a liability!
By the end of the episode we are given several standout moments (including Rick getting a "HOLY SHIT" moment which proves just how far he will now go to protect his group) with several characters and even though we most likely won't be seeing much of the prisoners for the rest of the season, they were quite the fun diversion and made for a very nice and tense episode. These are the kind of things that Season 2 really dropped the ball on delivering and its really nice to see the new showrunners are wasting no time trying to prove that the show has learned from its previous missteps and is back on track now. Good thing too as we are approaching one of the biggest moments from the comic book that completely changes everything….
---