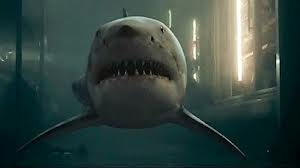 by Karl Madsen, Editor
Not only did Jawsmake people afraid to go in the water, it started a many decades' long run of ocean creature movies. Giant sharks, prehistoric sharks, mutant sharks, and hordes of sharks. The bar was also set high to have our waterways cinematically terrorized by piranha, squids, octopus, and crocodiles. Some of these are good; somemake you wonder if you wouldn't be better in the water. Anchor Bay takes a leap at the bar with the release of Bait, which poses the survival of both a tsunami and great white sharks, in a parking structure and a grocery store. Are you as intrigued as I was?
The premise of Bait is that a tsunami hits a coastal city in Australia, trapping two groups of people in a flooded structure. In the grocery store we have ex-lifeguard Josh (Xavier Samuel), ex-girlfriend Tina (Sharni Vinson), Tina's new beau Steven (Yuwu Qi), a policeman Colins (Damien Garvey), policeman's shoplifting daughter Jamie (Phoebe Tonkin), store manager Jessup (Adrian Pang), cashier Naomi (Alice Parkinson), robber Kirby (Dan Wyllie) and his reluctant partner Doyle (Julian McMahon). Trapped in the underground car park are Kyle (Lincoln Lewis) and his girlfriend Heather (Cariba Heine), and Jamie's boyfriend Ryan (Alex Russell). Oh, and don't forget the great white sharks looking to make a snack out of the survivors. We have twelve survivors, two sharks, and one common cause of survival.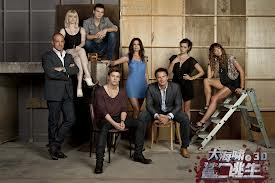 I like this flick, not because it's plausible but because it's fun and interesting. Visuallythis movie is intriguing, especially when you think of how these structures might look when they have 6 – 10 feet of water running through the aisles. What sorts of flotsam might be bobbing in the water? Adding to the fun is the relationships forged, strengthened, and broken during their attempts at freedom. The interactions between the characters are a fascinating aspect because the survivors are not your typical cliché group of people trapped in a dire situation, which I found quite refreshing.
Special Features:
Storyboard Gallery
Bait 3D Disc 1 – Blu-ray with 2D and 3D HD version with Dolby TrueHD 7.1
Bait 3D Disc 2 – Standard Definition with Dolby Digital 5.1
Karl's Scores:
Acting – A
Setting – A-
Special Effects – B+
Creep Factor – B-
Tension – B
What the Heck Moments – 2
Overall – A
Truthfully I enjoy this flick, not that it's a cinematic treasure but that it's fun. Really, a shark in a grocery store and a parking garage; but the tsunami allows me to accept that it may happen. That's part of the fun, what would I do if I was in a crazy situation like that. I don't hide and wait to be saved in the crazy scenarios either. Coupled the unique setting are characters you can relate to. So while this may not be a cinematic masterpiece it does have the one thing that is important to me: fun.
ComicsOnline gives Bait 3D 4 ½ grocery shopping sharks out of 5.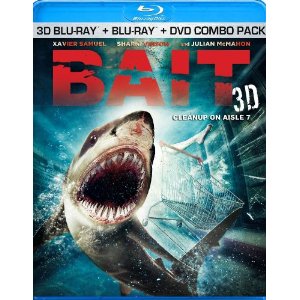 Keep ComicsOnline.com at the top of your shopping list for more horror reviews and everything geek pop culture!