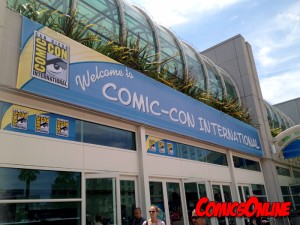 by Kerrie Hui, Reporter
Yes, I understand that San Diego Comic Con (SDCC) ended more than a month ago and you're all probably sick of reading and hearing about it. Due to the fact that I have, rather unfortunately, been suffering from Post-SDCC depression it has taken me this long to write this piece; add the fact that I had to sift through 3000+ photos and decide which ones were the most impressive to attach to this blog to compensate for my rather bland writing. But for those of you who don't feel like wringing my neck for recounting my experience and would love to read more about my awesome adventure, please by all means read ahead!
SDCC, without a doubt, is one of the world's biggest conventions where numerous people from all corners of the world congregate together to share and experience four days of exhibition from the popular culture industries. The four days have grown to include other events such as Zachary Levi (Chuck, Tangled) and The Nerd Machine's NerdHQ, The Geek and Sundry, Nerdist Podcast Live Recording and BioWare Base to name a few. Some Most fans travel thousands of miles, spend hours on a plane with wailing children and uncomfortable seats and empty out their wallets, all in the name of the experience and memories these four days afford them.
And one of them I was (in Yoda's voice).
This year, after many years of saying to myself that I would be there one day, I finally lost my SDCC virginity. In July, I flew 7500 miles (about 14 hours) from Sydney to Los Angeles (let it be known that it was also my first time in the States) to make it to SDCC. I had previously stayed up to 3am in March to purchase my 4-day badge; lived sparingly for months leading up to July to ensure that my piggy bank was sufficient; and educated myself on as much popular culture shows and SDCC tips as I could, all in preparation to guarantee I squeeze the living daylight out of this experience.
And squeeze I did. It was the best holiday I have EVER had. The only complaint that I really have is that I missed out on some of the fun since I was still "underage" (you silly Americans and your 21 legal age limit) at the time. Also, please let it be known that I had already spent 4 and a half incredibly packed days prior to SDCC in Los Angeles, as to understand why I am constantly moaning about being tired in this post. I basically lived, ate, breathed and survived on Comic Con adrenaline alone.
Tuesday, 10th of July 2012.
"SAN DIEGO I AM IN YOU!" My Twitter followers would have read. I arrived in this beautiful harbor side city in the late afternoon after a two and a half hour train ride down from Union Station, Los Angeles. The strategy was to arrive in San Diego on the Tuesday prior to the start of SDCC to get a layout of the land before the hoards of people arrived.
A friend picked us up from the station and we checked into our hostel that was right in the heart of the Gaslamp Quarter (USA Hostels, San Diego). I had opted for the hostel route since I didn't want to pay hundreds of dollars on a hotel room that I would most likely not use. I only needed access to a shower, space to place my luggage and a bed, all in which the hostel provided and more. Add the fact that it was only about a 5-minute walk (5 blocks) to the Convention Centre, it suited all my needs perfectly.
Not that this is relevant, but that night I tried In N Out Burger for the first time with a bunch of fellow nerds that I had met via The Nerd Machine (who subsequently convinced me to travel to the US for SDCC this year) including our very own Karissa Barrows.
Wednesday, 11th of July 2012.
Badge collection day.
In the morning I met up with Karissa before heading to the ComicsOnline tweetup at Lolita's. We then found out that there was going to be a Doctor Who panel happening at NerdHQ, and immediately decided unanimously to campout in front of her laptop to purchase tickets. We scored some…oh yeah! (it sold out in 15 seconds. Yes, one Mississippi, two Mississippi, gone in 15 seconds!). After a lot of flailing and squealing, we met up with our fellow ComicsOnline peers where I proceeded to have the biggest (and cheapest) burrito I've ever had. Food is expensive in Sydney!
Badge collection started at 3pm, and since I did not purchase my 4-day badge with Preview Night, I had to catch a shuttle to the Town and Country Hotel to pick mine up. What should have been a 20-minute ride turned into a 40 minute to 1 hour trip due to the increased traffic and an unfortunate traffic accident. The badge collection process itself was rather quick and simple. It only took about 15 minutes from the back of the line to the front.
And then the wait to catch the shuttle back Downtown happened. With a massive queue. In the sun. In the middle of Summer. I got a very nice SoCal tan. It would have been nice were it not for the fact that I am indeed, a vampire and tended to melt under the harsh sun.
When I finally got back Downtown, I roamed around the Gaslamp Quarter before heading over to the House of Blue's to attend the Mark Christopher Lawrence (Chuck) hosted Comedy Show and man I have to say, I had not laughed like that in a long time.
I went to bed "early" (2am since the problem with staying right at the heart of the Gaslamp Quarter is all the buzz and noise from all the clubs and people in the streets) in preparation for the next four days.
Thursday, 12th of July 2012
IT BEGINS!
I started the day off at 9am by walking the Exhibition floor. After my first experience of a Con at Supanova Sydney, I have to say I was pleasantly surprised at the amount of space I had to walk around the aisles. Of course, the first lap I did of the floor was to get as much free swag as I could. This included a stack of Lionsgate Film Posters (The Hunger Games Comic Con Exclusive Poster! Yayer!), Sharpie pens, Badges, Pins, more posters…at this time I realised my point of attack had one giant flaw since I was carrying too much. I had to unload my items at Karissa's hotel room before heading back to the Con floor to do what camera people did whilst Karissa interviewed Sylvia Feketekuky and Chris Hepler. After that we rushed to Block No.16 Union and Spirits on 7th Avenue where NerdHQ was held. We scored tickets to the 2nd Chuck panel!
Can I just say, "Wow." Looking back at these pictures still leaves me breathless because I got to meet my idol. It's a surreal feeling meeting these people who bring your favourite character on TV to life. Just…Wow.
After the panel, we got to get one item in our possession signed by the cast. Once again it felt surreal to be able to talk to these people and truthfully I don't remember much of it except for high-fiving Zac when he heard my Australian accent. I was literally on Cloud Nine. I love Comic Con.
With some time to spare, I decided to head back to the Convention Centre to see if I could get into Ballroom 20 for the Dexter panel. I had only recently fell in love with this series and having known that they would be showing the first two minutes of Season 7 (those of you who watch the show will know) I didn't mind waiting about 2 hours to get in. Add the fact that I missed Yvonne Strahovski (Chuck) at the 2nd Chuck Panel since she had to make it for the Dexter signing I was super happy when I finally got to sit down. Whilst waiting I got some pretty good views of the Bay and the TV Week Yacht (unfortunately blacked out) where many stars were getting photographed.
Excuse the above photo for the lack of close up. I was seated in the very absolutely last row of Ballroom 20 (which seated about 4000 people). Don't believe me? Have a look at this photo -
After the panel ended at 7 I left to go buy dinner and head back to the hostel to take a shower. The campout for the Firefly 10th year anniversary panel was to happen that night.
The Campout (the time between Thursday and Friday)
No Comic Con experience is complete without camping out for a panel at least once. Since this was THE panel to campout for this year, I had to do it. Yep. Had to. The campout started at 11:15 pm.
What are we camping out for you ask? Well, but of course the Firefly 10th Year Anniversary one. I met some nice people in line (seeing as we were sharing the same space for the next 9 or so hours, you might as well make some friends). Unfortunately I was situated where I wasn't undercover and I got rained on around midnight. Fun times were had.
Around 11:30 Adam Baldwin walked by to get back to his hotel. Around 12:30am? Joss Whedon came to greet fans, sign things and take photos with them. What an awesome man. (Sorry, by this time my brain was a fuzzy mush and I don't recall much except for the extreme pain my butt and legs were feeling).
Friday 13th July, 2012
Officially Day 2. I apologise if this day's coverage is rather short and bland. To be perfectly honest I don't remember much of it due to my sleep deprivation.
Managed to get into Ballroom 20 at around 8am. My butt had never felt so happy to be seated on a chair (SDCC Tip: If camping out for panels, make sure you bring a cushion, or a pillow, and something really soft to save your bum). I was so sleep-deprived that I kept nodding off (as were most people) at random intervals. The Community and Legend of Korra (which were one after the other) were a blur (I have pictures though).
I woke up for the Firefly panel (don't think anyone could have slept through the thunderous applause and cheering the cast and Joss Whedon got upon entrance). There's not much I remember from it, I'm sorry to say, but I do remember a lot of tears, hugs, a girl crying when trying to win Adam Baldwin's Jayne hat, Joss Whedon's thank you speech to the fans, standing ovations and a helluva lot of cheering.
(Unfortunately by this point I don't know remember where my camera was…I think I handed it over to my sister and the photos were all blurry so this is the only photo I have of the standing ovation and of the whole cast and crew on the panel)
The next panel to occur at Ballroom 20 (by now it was around 2:30pm) was the Bones panel.
Discussion into Season 8 and fans' reactions to Season 7 was talked about. I can't go into TOO much details as there are SOME spoilers. But I'm sure you technology-avid readers will be able to search it up on the web anyway, so you don't need my 92% droopy eyed and muddled recollection of the panel.
When the panel ended, I had never before in my life felt so glad to go head back to the hostel and take a nap. My back, butt and legs were killing me (Mind you I was only 20 back in July).
I took a 2 hour nap (powernaps will be your best friend) and was back in commission around 4pm, where I proceeded to head back to NerdHQ again to try out some of the demos of the not-yet-released games available there (Sleeping Dogs, Tomb Raider 4) until dinner. After said dinner, I traversed over to Balboa Theatre for the live recording of the Nerdist (Chris Hardwick) Podcast, with special guest John Barrowman (Torchwood) who provided many (rather inappropriate) laughs for the night. Let's just say it was pretty M rated!
Tiredness settled in and I slept like a baby that night.
Saturday, 14th of July, 2012
Ah Saturday. Today I didn't have much on (no panels I really wanted to go to etc) so I hung around NerdHQ with some nerds where we proceeded to abuse utilize the free photobooth there. I also introduced my fellow nerds to Tim Tams, delicious Australian chocolate biscuits that I lugged all the way from home. We had lunch at Dick's (where I also bribed our waiter with Tim Tams) before most of us headed back to NerdHQ for the Doctor Who panel with Matt Smith, Karen Gillan and Arthur Darvill.
Man oh man.
The best part of it? Singing Bohemian Rhapsody with them. That was AMAZING (and I do believe most people who were in attendance would agree).  Karen Gillan imitating a Dalek came a close second. It was also quite pleasant to hear the variety of accents that were floating around; it amazes me how so many people in the world could band together over these four days sharing things we love.
Apart from the Doctor Who panel on Saturday I didn't do much related to Comic Con. So I'll finish today's blog with marveling at how cheap food is in America and how I find your money system annoying. We have colourful money in Australia which makes it easy to identify at a simple glance inside the wallet.
PS: I stayed out til late on Saturday night down at Coronado Beach which would explain why I am, once again, tired on Sunday.
Sunday, 15th of July, 2012
The last official day of Comic Con: cue the tissues and tears. I tried to enjoy the day without thinking too much about how this experience was ending. I spent the morning examining the various Batmobiles that were placed on the lawn to the side of the Convention centre 'oooing' and 'ahhing' appropriately.Then I headed back onto the exhibition floor to have one last look at things. At the Marvel Booth they unveiled the new Iron Man 3 suit.
Back at NerdHQ, the second Nathan Fillion Panel happened. Just this one panel raised $15,000USD for Operation Smile, which made me smile a lot.
Being able to witness how fans banded together for a good cause whilst Nathan Fillion auctioned off various items of his for charity made me smile. A fan paying money so Nathan would hug her mum made me smile. Nathan really giving that girl who paid to have that kiss made me smile. Nathan talking about his brother made me smile. Nathan Fillion thanking the fans made me smile (and a bit teary). Witnessing the bromance between Zachary Levi and Nathan Fillion made me really smile. It was a good way to end my Comic Con experience.
(Sadly I didn't manage to get tickets to the last Zachary Levi panel, but I'm sure if I did I would have balled like a little girl since I still haven't been able to watch it online yet).
And so ends my SDCC journey for 2012. It was a great first time, being able to attend most panels I wanted to go to (there were a few I missed out on, but I wouldn't trade what I experienced for anything else. This just means I have to go again soon!) and do most things I wanted to do. The only bummer I have is not having purchased a 2012 Comic Con Official T-Shirt (insert tip: This should be the first thing you should do when SDCC starts as the line is HUGE).
Even without a Comic Con Badge there are still plenty of things to do around San Diego. I highly recommend anyone and everyone who hasn't been yet to go at least once. You won't regret it. You'll create incredible memories and make friends for life, bonding over the things you love.
For those of you who have read this whole long-winded (and slightly vague and badly written) story of my journey of Comic Con, thank you for sticking around. For those of you who just came for the photos, feel free to look and don't  forget to check out ComicsOnline's Facebook page for more photos! For those of who have any other questions, please leave a comment! For those of you who would like to share your own SDCC 2012 adventure, please comment too!
Want more coverage to satisfy your geek cravings? Visit ComicsOnline.com for more in-depth coverage of Supanova events and celebrities and for everything geek pop culture!