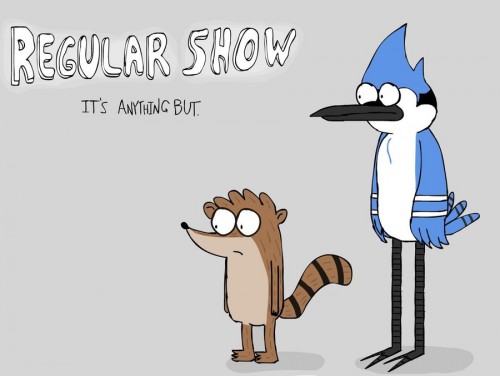 ComicsOnline had the opportunity to sit down with J.G Quintel (Creator, Mordecai), William Salyers (Rigby) and Sam Milton (Benson, Pops, Muscle Man) of The Regular Show. While nothing was revealed for upcoming episodes, it was more so an inside look at censorship and the creation process.
A lot of the conversations were about censorship and what can be passed through the radar. Quintel states that he doesn't want it to be Adult Swim style, but also not too much kid's style. He likes the in between of PG rating so he worked with Cartoon Network's project of airing more PG shows. The censors are mostly around context and repetition, like how "sucks" and "pissed" can't be used throughout the entire show which is understandable. Sometimes the cast is surprised that some lines were kept even though it sounded like it needed an alternative. The line of "You know who else likes to strap onto dudes and work real hard?" was cut for obvious reasons. An entire scene that they cut was two characters talking about grilling a human:
"Isn't that a little weird?"
"Nah, we'll just cut around all the human-y parts."
We delved deeper into the process of creating an episode: it is all hand drawn with a storyboard driven team. The voices are recorded at least once a week with all the cast in one booth. Usually it takes one month for an 11 minute episode. When songs are used, they have one musician for the score and Quintel and Salyers play off each other to create more of the random one liner songs such as the "synchronize our watches" jingle. There's also one of the storyboard artists who create some of the longer songs like the "Aw Snap" song. Other than Quintel and Salyers improvising on the songs, there is hardly any improvisation on the show since Quintel does such a great job with the script. Speaking of the script, he mentions that he writes it for college kids and himself, giving a reason for why a lot of jokes don't get past the radar.
The last thing that was asked was about a Regular Show movie. Quintel states one might be made in the future, but for now he doesn't want to make a movie for movie's sake.
Stay tuned to ComicsOnline for more New York Comic Con 2011 coverage and for everything geek pop culture!