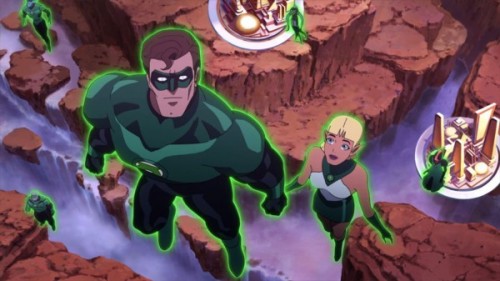 DC Entertainment and Warner Bros. Animation have consistently given the fans a sneak preview of their new animated movies at conventions over the last few years, and this year at WonderCon we are given a new treat. With DC pimping out the new Green Lantern live action movie, there is no better time for the DC Animated Film series to dive deep into Green Lantern mythos and lore by bringing us a series of short stories taken from the comics over the years in Green Lantern: Emerald Knights (available to own on June 7th).
Set in the midst of a moment of crisis for the Green Lantern corps, Emerald Knights (available to download on June 7th) joins the Lanterns as they ready themselves for battle against a great threat that has been sealed away into the anti-matter universe (which is now returning to take its revenge upon the Guardians and OA). New Lantern recruit, Arisia, is quickly swept-up into the war preparations, yet she remains unsure of herself as a lantern and wonders if she will be able to stand toe-to-toe with other famous Lanterns to help them defend and protect the universe from the otherworldly threat. Hal Jordan (voiced by none other than fan favorite Captain Nathan FIllion) quickly takes a liking to the new recuit, becoming her mentor and attempting to calm her nerves by telling her various stories of the corps (which you will be able to view on Blu-ray/DVD combo on June 7th).
We are treated to six different flashbacks, each based around various side characters that reveal their past histories. Kilowog (Henry Rollins) is shown experiencing his harsh training, given at the hands of (Insert name here voiced by Black Mask from Batman: Under the Red Hood, Wade Williams). We are given a glimpse at Laira's various family issues, and even shown what happens when an entire planet becomes a member of the Lantern Corps. Last, but certainly not least, we are given a glimpse of things that are yet to come, involving Sinestro in Abin-Sur's story.
This feature-length animated film (available on June 7th) is very well-produced and expertly cast. Bruce Timm and Andrea Romaro once again bring their top-notch production efforts to another DC animated project, and their presence is greatly felt. Geoff John, who's work on the Green Lantern franchise has been nothing less then completely universe redefining, is commissioned to writing duty for the movie.
After the preview screening, the attendees were treated to a Q&A session with Geoff Johns, Bruce Timm, Andrea Romaro, Eddie Berganza, Wade Williams, Alan Burnett and Todd Casey. The attendees were treated to awesome stories of production from the panel. A great example of said entertainment is the story about Nathan Fillion who, while in the booth recording, got a text message from Ryan Reynolds on the set of the live action GL movie about how he planned to steal Castle's makeup artist from them… Nathan quickly shot back, sending a picture of the animated footage, while telling Ryan that he is planning to steal his Green Lantern from him.
Nathan Fillion even took the time from his busy schedule to join the panel via speakerphone to tell the attendees a bit about voicing Hal (as well as doing the GL Oath), which sent cries of excitement and love throughout the room. Bruce Timm also took the time to mention the next DC animated film: Batman: Year One, which will be premiered at this year's San Diego Comic-Con, as well as announcing what the first DC Animated Film of 2012 would be; Justice League: Doom, which is an adaptation of the "Tower of Babel" story. Also, Timm mentioned Fillion would return to voice Hal Jordan in a upcoming project. Naturally, they weren't at liberty to talk about the project quite yet.
All in all it seems that this year is packed full of DC animated goodness, so be sure to look forward to Green Lantern: Emerald Knights, which hits stores on June 7th on DVD/Blu-Ray combo pack!
Stay tuned to ComicsOnline for more WonderCon news and for everything geek pop culture!
P.S. If you had attended this panel, you would have known that the release date (June 7th) was repeated every 5 seconds by the moderator. (We've got it Gary. Don't worry.)